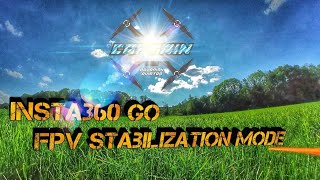 Just a short pack. Didnt know that the new update for the cam was out. In this video the FPV stabilization mode is activated. To be honest, i dont see a difference between my unstabilized footage and the FPV stabilization ???? Thats the reason i dont show it side by side... anyway, you have to push the Button of the cam twice now. In the old Firmware i just have to push once. Thats the reason why i have only this short pack. The "real" flight wasnt captured???? Hope you enjoy it nevertheless!

Setup:

Frame: Armattan Marmotte
FC: Flightone revoltosd
ESC: Flightone Bolt 32
Motors: RCinpower GTS V2 2306 2500kv
VTX: Furious FPV Stealth Long Range
RX: Crossfire Micro
Cam: Foxeer Predator V3
Props: T-Motor t5143
Antenna: Propfräse
Lipo: SLS NOC RACE 2N 1800mah
HD Cam: insta360 go
----------------------------------------------------------
Ground Gear:

Goggles: Fatshark HDO with Rapidfire
Radio: Taranis x9d Plus SE Hall Gimbals (R)
Antennas: Cloverleaf by "Chips&Grips" + 5 turn Helix by "Causemann"

Категория:
Развлечения

Теги: the, fpv, cam, stabilization, insta, mode, armattan, new, have, flightone, push