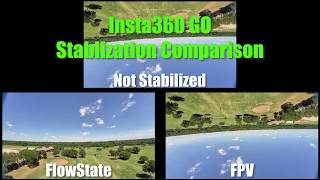 0:49 FlowState Stabilization
1:38 FPV Stabilization
2:26 None/FlowState/FPV Stablization

I recently built a 3" micro-quadcopter primarily around KababFPVs Toothpick build recommendations, with a couple upgrades of my own.

I was excited enough about the update to allow the Insta360 Go Camera (Link: ) to record for up to 5 minutes that I thought it was a no-brainer to try the 20g action camera atop my new quadcopter.

Here's a video that I made to look at Insta360 Go's different stabilization options (None, FlowState, and FPV) and thought the results were interesting enough that I'd make a quick video and upload it to Youtube.

The biggest difference between FlowState and FPV seems to be that the stabilization attempts to keep the horizon locked and leveled. You'll see things act a bit wonky during my snap roll and my aborted power loop.

Категория:
Люди и блоги

Теги: the, and, stabilization, that, insta, toothpick, flowstate, fpv, quadcopter, video, camera