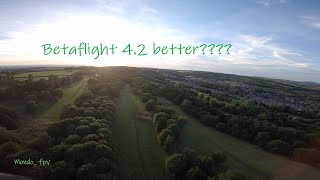 #gemfan #armattan #quadcopter

Yes same spot, but it's a great spot and this time i've put Betaflight 4.2 onto my badger 5".....

I tryied this from Betaflight tunning notes and works..... No hypersmooth raw footage ????

HD (smoothed FF for HD cameras, strong low turn rate smoothness, low iterm relax to minimise bounce back)

set iterm_relax_cutoff = 10
set rc_smoothing_auto_smoothness = 20
set ff_interpolate_sp = AVERAGED_3
set ff_smooth_factor = 40
set ff_spike_limit = 55
set ff_boost = 0
set feedforward_transition = 40
set yaw_lowpass_hz = 70
set throttle_boost = 5
set throttle_boost_cutoff = 10
set dyn_lpf_dterm_curve_expo = 7
set gyro_rpm_notch_q = 800

and also tweeked rpm filters to my prefference, hope this helps..????

my instagram ...
_fpv/


Quad :
Armattan Badger 5" 5s lipo

Mamba f722s
F50PRO 50a blheli_32 4in1
Foxeer monster mini pro fpv cam
Xing 2207 2450kv motors (Throttle limit to 1950kv)
Rushtank mini vtx 25-800mw
Foxeer lollipop v3 Antenna
Gemfan 51x43x3 Skitzo props (awesome)

5s Chnl 1500mah lipo
Tbs crossfire micro Tx diamond antenna
nano Rx immortal t
Gopro hero7
Fatshark HD3 with True D 3.9
Ethix ND8 Filter on Gopro ......

Категория:
Люди и блоги

Теги: set, betaflight, fpv, this, and, spot, mini, badger, low, armattan, likey